Biscuits and Bubbles self- and full-service dog wash is open in Salem
Posted on August 17, 2009 by biscuits_admin No comments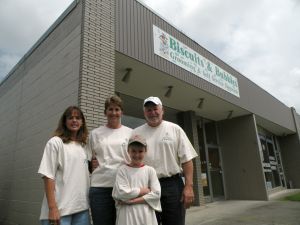 By Miranda Beck
Beside the First United Methodist Church in Salem on Main Street, the dog-loving couple of Van and Teresa Johnson have opened up their second business that caters to canines (some for felines, too!) It's a full service or self service dog wash and grooming. Either way, they clean up the mess so dog owners don't have to dirty up
their home.
The store opened on August 7 and they carry treats, chew toys, and high end dog food so far. They're keeping some of it local, too, by buying from the Salem business "Paw Paw's."
In 2004, Van came home from his job at Steel Corporation in Salem, and Teresa shared her idea to open a boarding kennel – she knew a lot of folks that were looking for places to board their pets while the owners went on vacation. So she and Van built the kennel beside their home up route 311 and began their business "Carvin's Cove Bed and Biscuit."
"I always loved animals and I wanted to do something [work ] home but didn't want to sit on a computer all day," Teresa said.
And here they are doing well in 2009 with a second business to grow and nurture. They are hoping to add more groomers and bathers when things start getting busy. They are even going to offer doggie daycare for pups under 50 pounds at the Main Street location.
"I guess you could say I'm no longer in the steel business and I'm getting ready to retire," he said. "The dog industry has been good to us, so why not try something new?"
Van and Teresa have been married for almost 30 years, and they've learned to cooperate while they built a house and two businesses together.
"You become tolerant of each other," she laughed.