Salem High School Art Student Paints Mural for Doggie Day Care
Posted on January 13, 2016 by biscuits_admin No comments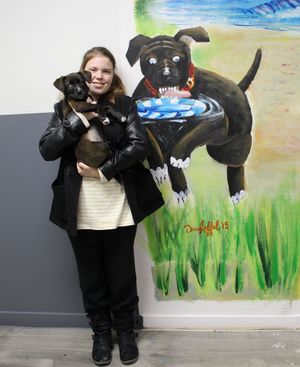 Posted: Thursday, December 24, 2015 10:00 am
Candy Long candy.long@roanoke.com 540.981.3342
Salem High School senior art student Dare Leffel has gone to the dogs – to paint, that is.
She has just completed a mural for Biscuits and Bubbles, a family-owned pet shop, salon and doggie day care located on East Main Street in Salem.
Owner Blair Johnson has plans to expand the doggie day care program by adding a new room for the most active dogs.
"A TV will be playing Animal Planet, there will be two leather couches, fire hydrants and an agility ramp," said Johnson. "There will also be a second fenced area outside for them to run and play."
Even with all the latest in doggie products and services, something was missing — the walls were just too stark.
"Blair sent an email to my teacher, Mr. Gibson, asking if there was someone who could paint a mural, and he thought it would be a great senior project for me," said Leffel.
The project, done using acrylic paints, took about six weeks to complete painting for several hours a day after school. There were no artistic stipulations except that "Blair wanted a beach scene with dogs." And Leffel had the perfect subjects to paint — a new puppy of her own named Autumn and a dog named Whisper belonging to her boyfriend's family.
Leffel, who is taking an IB art class this semester, sketched the mural beforehand but found that painting it to scale was more difficult than she thought. Leffel, who plans to continue to study art after high school, would like to one day have a career as an artist, either painting or in the graphic arts field. Or perhaps both.
Johnson said the new doggie day care room will be ready for canines Jan. 1, and hours of operation will change slightly, as well. New hours will be Monday through Thursday from 7:30 a.m. to 6 p.m. and Fridays 7:30 a.m. to 5 p.m.
"The idea is for dogs to have a safe and fun play and interaction while owners are at work," said Johnson.