Wally goes to Biscuits and Bubbles
Posted on August 19, 2009 by biscuits_admin No comments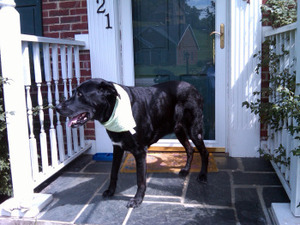 By Chelsea Arner
Here is a photo of Wally Dickerson, a 10 year old black lab mix just after his first visit to the new "Biscuits and Bubbles" on Main Street in Salem.
The business offers self-serve and full-serve pet grooming as well as treats and nutritional foods for pets. Wally had a great visit and is proud of his new look.
Link to SoSalem article.